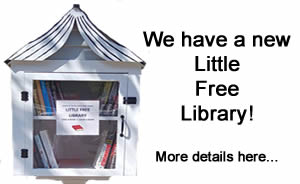 Take a virtual tour of Fall River Public Library!

Stay in touch! Subscribe to our newsletter.
Library Hours and Services
CURRENT (SUMMER) HOURS: Monday through Thursday, 8 am-8 pm; Friday, 9 am-3 pm, and Saturday, 9 am-5 pm. The library is closed on Saturdays during the summer (second week in June through Labor Day).
PASSPORT AND NOTARY SERVICE BY APPOINTMENT ONLY. Call the library to schedule your passport or notary visit. For hours, fees, and information, visit our Library Services - Passports page. Please note passport prices have gone up as of 1/10/2022.
LIBRARY OF THINGS: You can borrow more than books! Our "library of things" now includes wifi hotspots, Nintendo Switch Lites, laptop computer (in-library use only), bicycles (in season) and ukuleles!
What's New?

NOTARY SERVICE: The library now has a licensed Notary Public available to notarize documents. Please call the reference department, 508-324-2700, ext. 3, to make an appointment.

STREAMING MOVIES: The library offers KANOPY, with ten free streaming movies each month, plus unlimited children's and educational films, including the Great Courses series. Watch on your phone, tablet, computer, or smart TV!
LOOKING FOR A GOOD BOOK? Here are our top books of the year for 2021!